Resources to Get You Started
Online Workshops for Teaching Assistants
Upcoming TA Training Workshops
The TA Training Program hosts quarterly workshops for TAs on topics including Lesson Planning, Time-Management, Inclusive Teaching, and more. This quarter, all of these workshops will be held online over Zoom. View their website for more information and for the dates and times of the workshops.
CIRTL Network Webinars on Online Teaching
The CIRTL Network offers new workshops and courses every semester!. Learn how to apply evidence-based practices in online platforms and more by registering for the workshops on their website, cirtl.net
TA Essentials Workshop- An Intro to Teaching on Zoom (Recording and Materials)
CEILS and the Life Science 495 instructional team conducted a workshop for TAs across the sciences to provide some basic information on how to use Zoom and answer some burning questions. To view the recording, slides, and resources shared during the workshop, a link to the google folder is provided here.
Mental Health and Well-being
Along with everything else, this mode of working can be quite isolating. You are not alone. You are part of a community. Now more than ever it's important to take care of yourself. Take breaks and get some fresh air! Stay positive! Write down one thing you are grateful for every day! Reach out! Eat well and sleep well!
Here are some more resources and pieces of advice on how to take care of yourself and your loved ones during this trying times.
Looking After Your Mental Health During the Coronavirus Outbreak
There are many resources at UCLA and beyond with information and suggestions for how to keep yourself healthy in mind and body during the social isolation we are experiencing due to COVID-19. Here are a few of those resources:
.
.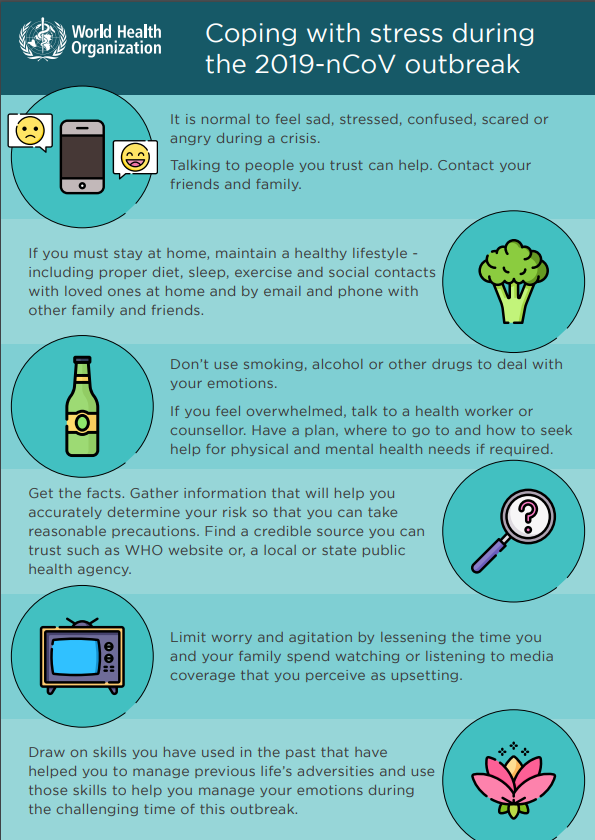 A Message from the Associate Vice Provost- Mental Health and Social-Well-being amid Caronavirus Spread
Office of Associate Vice Provost Wendelin Slusser
Semel Healthy Campus Initiative Center at UCL
To the Campus Community:
The concerns about the novel coronavirus disease (COVID-19) are being addressed in multiple ways here at UCLA. At the same time, information about the virus and its effects, including misleading information from outside sources, can heighten our fear and anxiety. The uncertainty surrounding this global and local event is unsettling for many of us, and there is much uncertainty about the coming weeks and months. You are receiving information from good, trusted sources here at UCLA through our dedicated COVID-19 website and Bruins Safe Online.
We also recommend the World Health Organization (PDF) and Centers for Disease Control and Prevention websites, resources that offer trusted information about mental health considerations. Even during these trying times, there are many aspects of daily life that remain under your control, including how you take care of your emotional, social and physical well-being, and your ability to support and help your friends, family and community.
Here are a few highlights:
Take care of your body. Eating healthy meals, exercising, getting at least seven hours of sleep a night, and limiting your alcohol consumption can help your immune system. Even while maintaining a safe distance from other people, you can still go outside! Regular exercise can reduce anxiety. Just be sure to protect yourself and others by following these guidelines for managing anxiety and stress.
Learn and share. Learn best practices from trusted resources on how to limit your exposure to, and the spread of, COVID-19, and share that information with others. UCLA is providing information relevant to our specific roles as students, faculty and staff. The WHO website details actions for health care workers, team leaders, caretakers of children, older adults and people in isolation. The CDC website lists common warning signs of emotional stress responses (including problems with sleep and concentration, and increased drug or alcohol use) and some ideas for how to cope.
Do things that give you purpose and meaning. Helping others is a gift, and it is good for your own well-being. Many in our community are more vulnerable to the impact of the novel coronavirus. You can help others by offering reassurance and emotional support, for instance.
Take care of basic needs (including food security). The CPO Food Closet is open today through Thursday, March 19, from 11 a.m. to 2 p.m., and on Friday, March 20, from 11 a.m. to 1 p.m. The food closet will open again on Monday, March 23, and on Tuesday, March 24, from 11 a.m. to 2 p.m., but will close for the remainder of Spring Break. These hours are subject to change, so please check the CPO Facebook page for up-to-date hours of operation. Lastly, the Economic Crisis Response Team will have its meal voucher program distribution four times during finals week. Please see the team's most up-to-date meal voucher distribution schedule (PDF) for times and locations.
Take care of your mind. Constant searching, scrolling or consumption of coronavirus news will only make us feel more afraid and powerless. Take breaks from media coverage and use UCLA's COVID-19 website and Bruins Safe Online for updates rather than checking unreliable sites. For many of us, maintaining routines will help keep us positive, balanced and mentally well.
Social distancing does not mean social isolation. Reach out to others and offer support, empathy, information and, if possible, tangible help. Stay connected using technology such as video chat, Zoom group calls, and cellphone texting and conversations. Personal relationships are crucial in maintaining perspective and elevating mood.
Increase your feel-good activities. Whether it's mindfulness, talking to your friends and family members, going for walks, taking part in sports, journaling, or watching Netflix, now is the time to increase positive experiences in your daily schedule. For a quick stress reliever, UCLA's Mindful Awareness Research Center offers free guided meditations in English and Spanish.
Treat everyone with dignity and respect. Let's work together to address xenophobic sentiments that perpetuate stigma toward people from the countries most affected by COVID-19. Members of our community are experiencing additional fear right now because of the increased suspicion and racism from others who wrongly attach COVID-19 to an ethnicity or nationality. Language like COVID-19 "victims" or "the diseased" is stigmatizing and harmful. Instead, we can say "people who are being treated for or recovering from COVID-19."
Pay attention to how you're feeling. Fear, worry and dread are normal reactions during this unprecedented time. People who have pre-existing mental health concerns are more vulnerable and face a higher risk of worsening mental health as the virus spreads. If you have a history of mental health concerns, form a plan such as how to access health workers, counselors and prescriptions. Resources for students are available at Counseling & Psychological Services and for staff at the Staff and Faculty Counseling Center.
This message reflects the expertise of the leaders of the Semel Healthy Campus Initiative MindWell and EngageWell pods. The Semel Healthy Campus Initiative website provides a wealth of additional information on health and well-being.
You are part of a UCLA community that is home to health experts who are committed to containing, delaying and reducing the impact of this virus in our community. We encourage you to stay abreast of all new information from trusted sources and share accurate information with others. Each of us can play a very important role by caring for ourselves and caring for others in our community.
Sincerely,
Wendelin Slusser
Associate Vice Provost, Semel Healthy Campus Initiative Center at UCLA
Clinical Professor, David Geffen School of Medicine
Suggestions from a Wellness Counselor on Coronavirus and Managing Mental Health
Read the full article here.
——
Kate Hagadone is the Wellness Counselor at Michigan Medical School's Office of Graduate & Postdoctoral Studies (OGPS). She sent the information in this post to an OGPS listserv at the end of last week. I thought the information would be of interest to lots more folks, so, with her permission, am reproducing her email here:
In the midst of managing a situation like the COVID-19 (coronavirus) outbreak, it is easy to feel overwhelmed & worried. Focusing on how to slow the spread of the virus is important for our physical health; however, identifying ways to manage our mental health is also crucial.
We may experience increased feelings of anxiety or powerlessness; impatience, irritability, or frustration. We might also experience a sense of scarcity, or be concerned about increased stigmatization or xenophobia. We may feel uncertainty about the future or worry about isolation amidst rapidly changing schedules & social plans.
Suggestions for Positive Coping
While feeling worried is normal & expected, we can increase our resilience in the following ways:
Take breaks from the news. After a certain point, it's more upsetting than informational. Make sure the info you do get is from reputable & non-sensationalist sources.

How much is helpful for you to read per day? Aim to stick to that limit. Try to do some other activities you enjoy to return to your normal life as much as possible.

Take care of your body. Take deep breaths, stretch.meditate. Try to eat relatively well-balanced meals, move your body regularly, get plenty of sleep and highly limit alcohol & drugs. This will boost your immunity & your resilience.
Plan for coping with a potentially sudden drop in social contact (e.g., classes & events being cancelled):

Create new traditions for connecting regularly with friends, family & peers via messaging apps, etc. Check in with your people.
Create a new, adapted schedule taking cancellations in to account. Keep things as consistent as possible

Focus on what you can control in terms of disease prevention & more broadly.
Do a "worry drop" — write out all of your fears in a journal until your anxiety has dropped by half.
Make a daily list of what is going well.
If you have a pre-existing mental health condition, these recommendations are especially important. If you have appointments with your therapist or doc, keep them. If you aren't feeling well physically, ask if they have options for video appointments.
More resources
These websites offer additional ideas for coping during the COVID-19 outbreak:
Home Ergonomics (for your improvised home-office)
With many of us now working from home, we may not all have the most ideal work space available for long hours spent on the internet. Here are some ideas on how you can mitigate pain that may be caused by an improvised work environment and suggestions for how you can try to set up a work-space to maximize your productivity and minimize discomfort.
.
For tips for fixing posture to reduce neck and back pain, watch this video here.
.
How to Set Up a Healthy Home Workspace. Read the article here.
COVID Cafe- Combat Isolation with a Virtual Social Meeting Space
COVIDCafe provides a space to help combat the isolation felt by social distancing. Interact with people from across the globe in these social hour sessions.
.
Supporting Undergraduate Students
Now more than ever, students will be looking to their professors and TAs for advice and guidance as they struggle to navigate learning in a new environment! Here are some ideas on how you can communicate with your students about the transition and help them succeed through the quarter.
Additional Resources for Graduate Students and Postdocs
We will continue to compile resources not only for teaching, but also for you in other aspects of your professional lives. See below for some of the most current articles.
Graduate Student Resources Center Newsletters
The Graduate Student Resource Center sends out a weekly newsletter with topics and events relevant to graduate students. Check out this week's newsletter for more information on things like mental health resources, graduate student professional development, food access programs, and more!
A Message from the Vice Chancellor on Shutting Down Non-Essential Research Activities
To the Campus Community:
I appreciate your efforts to develop strategies for ramping down on-campus research activities following my March 17 communication.
In light of Los Angeles County's safer at home order, UCLA has determined that these ramp-down strategies must be fully deployed by Monday. Please know that buildings will be locked at 10 p.m. tonight and remain locked on Monday, so please check with your department if you require special arrangements to enter your building. Effective at 11:59 p.m. tonight, all on-campus operations will be suspended, with the exception of those that are essential and cannot be conducted remotely.
Effective immediately, all group meetings, courses and scientific convocations are to transition to virtual environments — for example, Zoom, Slack or another approved, secure platform.
Research performed on campus
If you have not already done so, please obtain approval for any essential experiments and essential research personnel you believe must remain active on campus during this time. To minimize community interactions, each lab is to activate no more than one or two essential research personnel to manage animal husbandry, equipment or essential experiments. To ensure the safety of essential research personnel, labs should establish a communication protocol and use it while personnel are working on campus.
Some units, including the David Geffen School of Medicine, Samueli School of Engineering and the UCLA College Divisions of Life Sciences and Physical Sciences, have developed internal processes and deadlines for researchers to obtain approval for personnel and experiments. Those units will communicate directly with researchers under their purview. All other requests are to be submitted to me via C19@research.ucla.edu. Requests to continue research activities must include a full description of why the on-campus research is essential, a timeline for completion and documented support of the department chair or dean; essential personnel should also be identified in each request. All on-campus projects and personnel not approved to continue research activities or that do not have a pending request to their unit filed are required to cease operations.
As previously communicated, essential research personnel are those individuals who are:
Necessary to ensure the ongoing viability of research, including the well-being of research animals. This includes vivarium lab staff and non-vivarium lab staff responsible for animal care, although staffing should be minimized to the extent feasible to maintain the health and safety of the animals.
Necessary to ensure the ongoing viability of research that includes not easily replaceable, perishable research materials.
Responsible for the maintenance of equipment that, if not done, could result in damage to equipment or extraordinary cost — for example, cryogen fill on NMR spectrometers.
Researchers working on experiments that have a small window for completion — for example, research that relies on the ability to make specific measurements only a few times a year.
As a reminder, note that students, including graduate students, cannot be mandated to serve as essential personnel.
Essential experiments are those for which suspension of on-campus activities would cause irreparable harm to the research project. This will usually involve ongoing animal experiments that required enormous time and cost to get to their current state, and that will be completed in the near future. UCLA has also made a commitment to prioritizing COVID-19 research. Requests for continuation of such projects must be described in writing as indicated above.
In animal facilities, all animal orders, imports/exports and internal transfers will be put on hold and rodent breeding reduced to the minimum possible. Please contact UCLA's Division of Laboratory Animal Medicine for guidance on identifying unique and irreplaceable animals. Study areas maintaining aquatic, avian or other species are expected to maintain basic animal care and husbandry operations, and labs with USDA-covered animals that require specialized lab care or intensive husbandry operations are expected to continue providing this care as well.
Environment, Health & Safety (EH&S) staff are available for safety consultations related to ramping down your on-campus research activities. Contact C19Support@ehs.ucla.edu for support. In the event of a lab emergency, researchers should immediately call 911 rather than the EH&S hotline or email contacts.
Clinical research activities
With respect to clinical research, in-person research visits should not be conducted unless the specific research visit provides an immediate benefit to a participant's health and/or well-being, or the visit is part of the course of ongoing clinical care. (Note: Policies for routine and elective visits are also undergoing review by UCLA Health.)
Please consider suspending recruitment or conducting follow-up visits remotely, if this presents no harm to your participants. Please also be certain to personally inform participants of the risks of COVID-19. Visit UCLA CTSI Research Go and the Office of the Human Research Protection Program website for detailed information about UCLA's COVID-19 clinical research policy and human subjects research.
Off-campus research activities
Research activities that can be performed remotely and do not require physical interaction with human subjects (for example, field studies, surveys, record reviews and data analysis) can and should continue. As a reminder, the University of California Office of the President has stated that under no circumstances are researchers to take materials — other than lab notebooks, laptops and data storage devices — off-site, including to their homes. Notebooks taken off campus must be inventoried and tracked to protect university property while off-site.
While it is not possible to predict how long we will remain in this new state of ramped-down activities, you should plan for the possibility that this could continue through the end of the quarter or longer. I will continue to communicate with you regularly as I receive new information. Thank you for being True Bruins and exemplary members of our community.
Please direct questions to C19@research.ucla.edu.
Sincerely,
Roger Wakimoto
Vice Chancellor for Research and Creative Activities
A Letter from the Dean of Grad Division about Remote Dissertation Defenses
Dear Colleagues,
To ensure that graduate students are impacted as little as possible by the rapidly changing events associated with COVID-19, we want to assure graduate students that planned dissertation defenses will proceed as scheduled whenever possible. Current policy specifies that only one committee member can be absent or online for a dissertation event, however, we recognize that this policy may be disruptive in the event of individual quarantine or isolation, or a campus closure or suspension of in-person instruction. In the event that more than one committee member is unable to attend a dissertation defense due to COVID-19 quarantine or isolation, or campus closure or suspension of in-person instruction, exceptions will be granted automatically to allow the defense to proceed with more than one member online. Students defending a dissertation may also present virtually. This automatic exception will be granted for defenses scheduled through the second week of Spring Quarter. The Graduate Council will re-evaluate this policy in early Spring in accordance with campus recommendations regarding COVID-19.
Virtual dissertation defenses may be scheduled via GoogleHangouts, Skype, or Zoom sessions. If the evolving COVID-19 situation affects a student's dissertation defense plans, please have the Committee Chair send an email to Academic Services, Graduate Division (academicservices@grad.ucla.edu), copying the Department/Program Chair, Graduate Student Advisor and Co-Chair (if applicable) with a student's plans for virtual defense. Please include the student's name, student ID number, department, name(s) of individual(s) to participate remotely, and the date of the dissertation defense.
While Departments individually regulate comprehensive, preliminary and qualifying exams, we encourage them to consider alternative modes of assessment. For in-person written exams, we encourage departments to consider online examinations, take-home exams, or other evaluations that do not require physical presence. For in-person oral examinations, we encourage departments to allow virtual presentations and committee attendance as described above.
As always, please be mindful of students or committee members who may require special accommodations to participate in online meetings. The Center for Accessible Education can assist in setting up desired accommodations.
Please forward this information to the students, staff and/or faculty in your department.
With best wishes,
Robin L. Garrell
Vice Provost for Graduate Education and Dean of the Graduate Division
Andrea M. Kasko
Chair of the Graduate Council
Updates on STEM Research Related to COVID-19
https://medschool.ucla.edu/coronavirus-information#ResearchTH
Some Advice for PhD Students (or Postdocs) and Their Mentors in the Time of Coronavirus
This article outlines some ideas for you and your mentor and how you can talk about how to address your research goals and projects. View the article here.
Creating Healthier Research Labs
This article is not necessarily relevant to the current circumstances, but is still important to consider. How do we combat the negative effects of competitive academic and research environments? View the article here.
Article: For Many Graduate Students, Covid-19 Pandemic Highlights Inequities
This article in higher ed sheds light on some of the hardships graduate students may face in light of the Covid-19 response. View the article here.