Professor Will Conley presented as 2016 My Last Lecture Award Recipient
Please join us in congratulating 2016 My Last Lecture Award Recipient: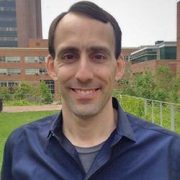 Professor Will Conley, UCLA Department of Mathematics
More than 50 years ago, the "My Last Lecture" award was established to honor a UCLA professor who is an inspiration to students. Every year, the Alumni Scholars Club asks students from all over campus to vote for their favorite professor, the one whose teaching has inspired them the most. These notable UCLA professors were given the chance to put all of their life lessons and advice for students into one "last lecture."
The Alumni Scholars Club (ASC) hosted this year's ceremony on Tuesday May 17th at the De Neve Auditorium. On this day Professor Conley not only received his award, but also gave an inspiring lecture on the question posed to the original lecturers more than 50 years ago:  What would you tell your audience if you had but one lecture to give – your last lecture on this earth?
Congrats, Will, and thank you for your inspirational teaching!
To see past recipients of this award and watch their lectures, please see the UCLA Alumni website here.