CEILS, Undergraduate Research Center, and UCLA Library Piloting Collaborative and Active Learning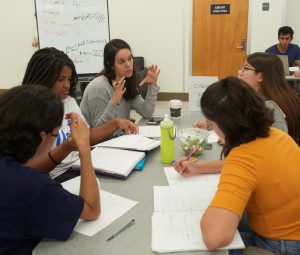 "WHERE INNOVATION IS BRUIN," the catchphrase of the UCLA Center for Education Innovation and Learning in the Sciences (CEILS), also exemplifies the Science and Engineering Library's approach to reconfiguring its facility in Boelter Hall to better support student and faculty teaching and learning needs. Case in point: Two current pilot projects in which the library is working with CEILS and the Undergraduate Research Center—Sciences.
Read the full article in the Library Newsroom.