UCLA Instructors and Students Presents Education Research at SABER West 2019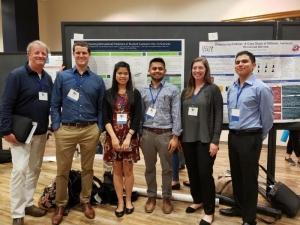 The Society for the Advancement of Biology Education Research (SABERI, holds an annual west coast regional conference for education researcher in biology. UCLA was well represented at this year's conference at UC Irvine, January 19th – 20th, with presentations by:
Jeffrey Maloy – Spoke on the use of interesting but educationally irrelevant anecdotes in flipped classrooms
Rachel Kennison – Presented a poster on the impact of LS 110, Career Exploration in the Life Sciences
Natalie Rotstein (Undergraduate) – Presented a poster on electrophysiology measurement and sense-making in introductory physics for life sciences laboratories.
Dhiraj Nallapothula, Selina Han, and Carlos Herrera (Undergraduates) – Presented a poster on enhancing motivational predictors of retention in the life sciences.
Photo: (Left to right) Marc Levis-Fitzgerald, Jeffrey Maloy, Selina Han, Dhiraj Nallapothula, Jen Berden-Lozano, and Carlos Herrera stand in front of a poster with results of their mindset intervention being employed in introductory life sciences classes at UCLA.