Overview of the Symposium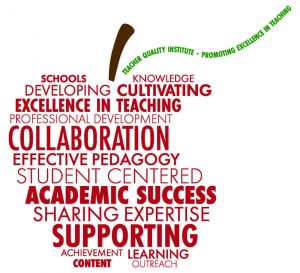 The goal of this symposium is to gather UCLA faculty and educational leaders to discuss the process by which UCLA evaluates teaching and, through a series of talks, inspire conversations about strategies to improve undergraduate education campus wide by rewarding efforts to make teaching more effective and innovative.
The symposium will feature talks by Dr. Emily Miller, Associate Vice President for Policy at Association of American Universities (AAU), Dr. Sierra Dawson, Assistant Vice Provost for Academic Affairs at the University of Oregon, and Dr. Diane O'Dowd, Vice Provost for Academic Personnel at the University of California-Irvine, all of whom have been active in national conversations around processes by which effective and innovative instruction might be inspired and rewarded. It will also feature talks by UCLA faculty and educational leaders with research expertise in the science of learning, experience in educational assessment, and/or have an explicit role in the teaching evaluation process at UCLA, including those making efforts to revise student ratings of instruction or teaching review policies.
The symposium has been organized by the Center for Education Innovation & Learning in the Sciences (CEILS) with support from:
The UCLA Judith Lengyel Memorial Lectureship Fund
The UCLA Office of Interdisciplinary & Cross Campus Affairs (ICCA)
The UCLA Division of Life Sciences
The UCLA Division of Physical Sciences
The UCLA Division of Social Sciences
The UCLA Division of Humanities
The UCLA Division of Undergraduate Education
The UCLA Division of Graduate Education
The UCLA Samueli School of Engineering
Welcome to participate are campus stakeholders who have been thinking about or working on issues surrounding the teaching review process. Among those invited are leaders in the Academic Senate and the Council on Academic Personnel; members of the Student Course Evaluation Revision Committee; lecturers with potential security of employment (LPSOEs) and lecturers with security of employment (LSOEs); departmental leaders including all Chairs and Vice Chairs; and faculty of all ranks and categories (including professors, adjuncts, lecturers, academic administrators and academic coordinators). Invited are those from across campus with constructive perspectives on students' ratings of instruction, on the overall teaching evaluation process at UCLA, and expertise in educational assessment.
Please join us for this important conversation and exchange of ideas!
Date: Tuesday, June 12, 2018
Time: 8:00a – 5:15p
Location: UCLA Faculty Center, California Room
Sierra Dawson, Ph.D.
Associate Vice Provost for Academic Affairs, University of Oregon
Diane O'Dowd, Ph.D.
Vice Provost for Academic Personnel
University of California-Irvine