The Southern California Regional Collaborative
Please click here visit our updated website for the SoCal Regional Collaborative.
The following information is preserved and reflects the work done during our pilot phase, from 2016-2018:
The Southern California Regional Collaborative is a regional network of 2- and 4- year institutions, working together towards improving overall outcomes in STEM higher education, and in particular for students and faculty from underrepresented groups.  This collaborative is working towards gaining funding for efforts that will target regional efforts to improve outcomes in STEM education through professional development for current and future faculty across 2- and 4- year colleges. This includes awareness campaigns about teaching careers at 2- and 4- year colleges and training programs for graduate students. In particular we would work with graduate students from groups that are underrepresented in academia to address the need* to increase diversity in our regional colleges to better reflect the diversity of our students. These trainees would support teaching efforts, education research initiatives, and curriculum development needs in collaboration with their 2- year internship site. In addition, regional programming such as webinars, symposiums, conferences, panels, and other events would support both current faculty along with future faculty. This would be coupled with an assessment plan to understand regional needs and assess the impact of our work.
Current SoCal Collaborative Regional Partners Include:
4-year Institutions
University of California, Los Angeles (UCLA)
University of California, Irvine (UCI)
University of California, Riverside (UCR)
California State University, Los Angeles (CSULA)
San Francisco State University (SFSU)
Community Colleges
Cerritos College

Coastline Community College

College of the Canyons
East Los Angeles College (ELAC)

Golden West College

Mt. San Antonio College
Orange Coast College
Pierce College
Rio Hondo College
Santa Monica College (SMC)
Foothill College
Organizations
ProjectMATCH Internship Program, sponsored by the Los Angeles Community College District
California Community Colleges' Success Network (3CSN), sponsored by the CA community Colleges Chancellor's Office
If you would like to join the Southern California Regional Collaborative, please contact Jess Gregg at jessgregg@ceils.ucla.edu.
Background on the NSF CIRTL INCLUDES Pilot

The following 3-minute video provides a highlight of our ongoing work in the Southern California region as part of the NSF funded CIRTL INCLUDES pilot initiative. 
UCLA has participated in one of thirty-seven pilot projects funded by NSF for the Inclusion across the Nation of Communities of Learners of Underrepresented Discoverers in Engineering and Science (NSF INCLUDES) initiative. NSF INCLUDES is a comprehensive initiative to enhance U.S. leadership in science and engineering discovery and innovation by proactively seeking and effectively developing science, technology, engineering and mathematics (STEM) talent from all sectors and groups in our society. By facilitating partnerships, communication and cooperation, NSF aims to build on and scale up what works in broadening participation programs to reach underserved populations nationwide.
Our project (Award # 1649092 ) is led by the Center for the Integration of Research, Teaching, and Learning (CIRTL) and our primary goal is to work within our region to explore a collaborative impact model across our regional 2-year community colleges and 4-year institutions to better prepare future faculty for careers in community colleges, where we know many students from underrepresented groups have their first STEM experiences.
---
Our focus from the INCLUDES grant is to "Expand and strengthen faculty preparation specifically for 2-year colleges, where many URG students have their first STEM undergraduate experience."
The SG2 Action Partnership is comprised of three pilot regional collaboratives and a member of the research team. The regional collaboratives include leaders and faculty at 2-year colleges, regional 4-year universities and CIRTL universities. We recognize that partnerships between 2-year and 4-year institutions can be challenging. Each regional collaborative is investing intentional effort toward processes for communication and development of social capital through mutually reinforcing activities, and will then create a common agenda and shared metrics of success for improvement cycles.
SG2 Action Partnership: Iowa Regional Collaborative, California Regional Collaborative, Texas Regional Collaborative
The SG2 National Coalition comprises national organizations that provide expertise in the pathways, work and needs of community college faculty. Two leaders from each regional collaborative as well as members of the research team are also included in the SG2 National Coalition. The primary objective of the National Coalition is to assess how the regional collaboratives work, and use these data to develop a strategic plan for scaling the idea to national extent through collective impact.
SG2 National Coalition: ASEE-TYC, ATD, ATE, CGS, CSCC, LSMCE, NISOD, PULSE
Additionally, mathematical skills are crucial for URG student success. As part of the SG2 initiative, we will provide future STEM faculty with awareness and knowledge from programs such as the Wright State University Math for Engineers, Carnegie Math Pathways, ASPIRES, and drawing from the knowledge base of AMSTYC.
The specific objectives of SG2 are to:
Develop the regional collaboratives within a collective impact framework, and assess their effectiveness
Determine faculty pathways to 2-year colleges within each regional collaborative
Develop a strategic plan for moving the knowledge syntheses of SG1 to impact on the development of 2-year-college future and new faculty (through onboarding), with associated evaluation and improvement cycles
Build a national structure that uses the tools of collective impact to connect together the regional collaboratives in this Pilot and to create new regional collaboratives across the country
---
Pending NSF Alliance Funding:
Our hope is that our regional collaborative can obtain future funding in order to implement, assess, and develop regional programming aimed at improving STEM outcomes in Southern California.
The following graphic is our vision for a regional collaborative structure and goals: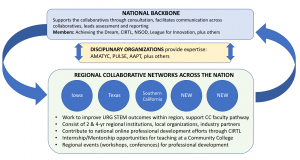 ---
UCLA Project Leaders:
Erin Sanders, CEILS Director, is Co-PI and lead for UCLA.
Jess Gregg, CEILS Associate Director for Educational Development, is project manager, coordinating logistics and supporting relationship building with our partners.
Marc Levis-Fitzgerald, Director of the Center for Educational Assessment with UCLA's Office of Instructional Development is leading the assessment component as well as supporting relationship building with our partners.
Interested in learning more about CIRTL@UCLA? Please view our program pages at the following link: